Japan's economic growth revised up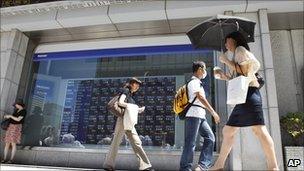 Japan's economy expanded faster than initially estimated between July and September thanks to higher corporate spending, official figures have shown.
The economy grew by an annualised rate of 4.5%, compared with the previous estimate of 3.9% announced last month.
Despite the upgrade, economists remain cautious about the economic outlook in Japan, which is suffering from a strong yen and falling prices.
Last month, the government passed a $61bn (£39bn) stimulus package.
This, the latest in a series of stimulus measures, is designed to boost the country's fragile economic recovery by creating jobs.
Economists attribute the relatively strong growth posted in the third quarter to one-off factors, such as sales of green cars before the end of government subsidies and smokers buying cigarettes before a tax rise.
Most expect growth to be weaker in the final three months of the year, partly due to reduced exports, which have fallen for the past eight months.
"Given the slump in Japan's auto output and a slowdown in developed economies and China, the economy will remain in a severe situation until the first half of next year," said Takeshi Minami at the Norinchukin Research Institute.
Hideki Matsumura at the Japan Research Institute echoed such sentiments: "This weak trend will continue. Recovery is likely to be delayed until the second half of the next fiscal year."
A drop in demand in the US, Europe and China has hit exports that are already under pressure from the high value of the yen, which makes exports more expensive to overseas customers.
Japan has also suffered 20 straight months of falling prices - known as deflation - which stifles economic growth by undermining consumer demand.