Bayer seeking big sales growth in China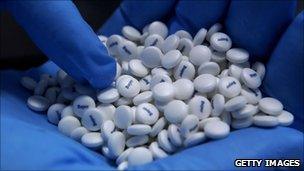 German pharmaceuticals giant Bayer has announced plans to invest 1bn euros ($1.3bn; £840m) in China to more than double sales in the country by 2015.
The investment will be made in the company's high-grade materials facility in Shanghai.
Bayer wants to increase sales in China from 2.1bn euros last year to 5bn euros in 2015 to take advantage of the country's booming economy.
It said plans for China were central to its push into the Asia Pacific region.
"The strong economic growth in China and in the whole region offers us outstanding opportunities, and we want to make the most of them," said Patrick Thomas, chief executive of Bayer Material Science.
"It is strategically important to have the necessary capacities in the Asia Pacific region to meet constantly rising demand."
The Chinese economy is growing at a rate of almost 10% a year, far higher than any developed economy.
Related Internet Links
The BBC is not responsible for the content of external sites.