UK house prices fell in November, the Halifax says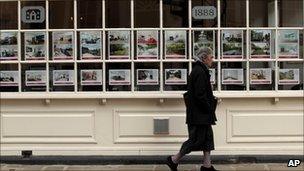 UK house prices have continued to slip, falling by 0.1% in November from the previous month, the Halifax says.
The lender, now part of Lloyds Banking Group, said that the average property was now 0.7% cheaper than a year ago, at £164,708.
Sluggish demand and a higher number of properties for sale had pushed down prices, it said.
But it said that signs of a reluctance to sell from some homeowners could halt the decline in prices.
The three-month on three-month comparison, a less volatile measure of house price changes, showed a 2.1% fall in November.
This drop has accelerated towards the end of 2010, but Martin Ellis, housing economist at the Halifax, said this figure was still not as sharp a decline as the 5-6% drop seen in the second half of 2008.
It was not a sign that prices were likely to plummet, he added.
"There are some tentative signs that homeowners are becoming more reluctant to put their properties on the market which, if continued, will help to relieve the current downward pressure on prices," he said.
"Interest rates are likely to remain very low for an extended period, which will support the improved mortgage affordability position for homeowners.
"As a result, we do not expect to see a significant fall in house prices."
The year-on-year drop in property values was the first annual fall registered by the Halifax since November 2009.
The Nationwide's most recent survey showed the annual change remaining just in positive territory at 0.4% in November, although month-on-month prices were falling.
Figures from the Land Registry, widely regarded as the most comprehensive house price survey, have also shown a downward trend in England and Wales.
A key factor in declining prices has been the lack of availability of mortgages, especially for first-time buyers, according to housing market commentators.
"Demand for property in the still uncertain climate remains muted. Even where there is demand, and it does still exist, the problem is a lack of finance," said Philip Clarke, managing director of property consultants Fisher Property Services.
"The great mortgage famine of the past three years shows no sign of subsiding."
However, the latest figures from financial information company Moneyfacts show that although mortgages with low deposits remain rare, there has been some pick-up for home loans at an 80% or 85% loan-to-value.
The number of mortgage products available for those offering a 5% or 10% deposit remains low and static.
But for those able to pay a 15% deposit, the number or products went up from 444 at the start of October to 470 at the start of December, Moneyfacts said. The number of products rose from 340 to 384 over the same period for those able to pay a 20% deposit.
Related Internet Links
The BBC is not responsible for the content of external sites.