UK trade deficit widens as imports rise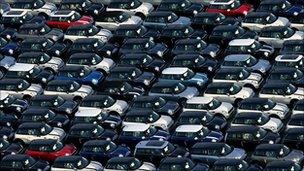 The UK's trade deficit in goods and services widened in October, the latest official figures from the Office for National Statistics (ONS) have shown.
The deficit - the difference between what the UK exports and imports - grew to £3.9bn from £3.8bn in September.
Exports from the UK totalled £36.8bn during October, while imports for the month came to £40.7bn.
The goods trade deficit widened by £0.1bn to £8.5bn, while the services trade surplus was unchanged at £4.6bn.
The UK's imports of goods in October were the highest since records began in 1992, the data showed.
Driven by the imports of chemicals from other European Union nations, total goods imports rose 3.4% from September to £31.6bn.
Exports of goods also rose, up 4.1% to £23.1bn, the highest level since May 2006.
The growth in the UK's goods exports was led by North Sea oil.
Regarding trade in services, UK exports increased 0.2% to £13.7bn. Imports of services rose by the same level to £9.1bn.
Alan Clarke, an analyst at BNP Paribas, said the figures did not immediately make good reading.
He added: "But it is worth cautioning that a lot of the deterioration in recent months is down to strong imports rather than weak exports.
"That could be down to manufacturers sucking in imports."
Related Internet Links
The BBC is not responsible for the content of external sites.