Bank levy to hit biggest UK banks harder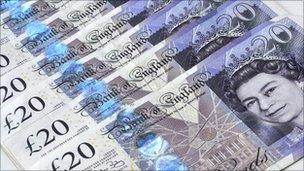 The UK's largest banking groups will pay the bulk of the money raised by the government's new bank levy, details of the forthcoming scheme have shown.
A consultation paper shows that lenders with a balance sheet of less than £20bn will be exempt from the tax.
It also reveals that the government expects the levy to raise a total of £8.8bn between 2011 and 2014.
Starting from 1 January, the levy is being charged largely in relation to a bank's level of short-term borrowing.
It aims to make banks move towards longer-term borrowing, so as to reduce risk in the banking sector.
The consultation paper shows that in 2011 the levy rate will be 0.05% of a bank's global balance sheet, rising to the permanent level of 0.075% in 2012.
The British Bankers' Association has warned the new tax could undermine the attractiveness of the UK as a financial centre.
BBC business editor Robert Peston said it was difficult to be sure how much individual banks would have to pay under the levy scheme "because all of them are trying to reduce their reliance on the kind of short-term wholesale funding where the full levy rate applies".
However, he added that if the levy had been applied to Royal Bank of Scotland at the end of 2009 the bank would have had to pay about £500m to the Treasury.
Our business editor said that while this was not a trivial sum of money, it was "well under half of what RBS paid out in bonuses" that year.
Related Internet Links
The BBC is not responsible for the content of external sites.