Foreign exchange: Beating the banks at their own game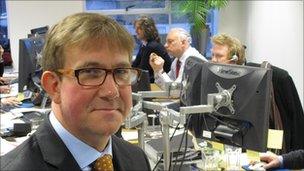 In the last decade or so, a specialist banking industry has grown up, aimed at businesses and the public, but of which most people are still unaware.
The firms specialise in changing your money into foreign currency, but at far better rates than those on offer from high street banks and bureaux de change.
On bigger sums, such as moving hundreds of thousands of pounds abroad to buy a property, they offer savings running into thousands of pounds.
Some of the firms are happy to deal with you even if you want to move just a few hundred pounds abroad.
"We can give customers a much better rate than the banks can do," says Rupert Lee-Browne of Caxton FX, one of the larger firms in the business.
"We have a currency card; we have an online system for £100 to £25,000 at your convenience and that money comes off your debit card; and then for anything more than £5,000 we recommend you speak to our account managers," he explains.
There are about 100 foreign exchange (FX) companies in the UK which specialise in moving money from your bank account here to another one abroad.
Typically they do not deal in holiday cash, just bank-to-bank transmissions.
They are rather different from the hundreds of High Street money transmission businesses which cater for members of the many immigrant communities in the UK who want to send money home.
Instead, the big FX firms get their business from small and medium-sized companies with bills to pay or transactions to finance in foreign currencies.
And they service wealthier individuals, such as people buying a property abroad, or people who have regular sums of money to move, such as pensioners living abroad but receiving their pension money in the UK.
Matthew Knowles, the managing director of one of the biggest FX firms, HiFX in Windsor, says outfits such as his can always offer a better deal than an ordinary bank.
"We always recommend our clients compare the rates we give to that of their High Street bank," he says.
"It's lovely and transparent - if we don't add value to the client, they don't deal with us. We have to significantly beat the bank to make it worth their while."
Foreign exchange firms such as these work by buying currency in bulk at money-market rates from banks - the rates at which they trade with each other.
They then sell it at a rate that is advantageous to their customers, but with sufficiently low overheads, they can still make a good profit on the deal as well.
The point here is that the banks will charge you a 7% profit margin if you simply wander into a local branch and ask for some foreign currency, so there is plenty of scope for others to take a slice of the pie.
"It is almost an ordeal for private customers to go to their bank branch and change money," says Dr Tien Tran, chairman of Currency Solutions, based in Bermondsey in South London.
"If it is a small amount, they will give you the bureau de change rate, which is about 6-7% off the market rate, and you will have to change at least £25,000 before they will let you get a rate from their treasury department.
"And they will only give you a rate if you want to deal there and then they won't even quote to you if you say you want a rate for a month's time," Dr Tran adds.
That firm dealt mainly in holiday cash and because it was a small firm, with a turnover of less than 3m euros a month, the payment services regulations required it only to be registered with the Financial Services Authority (FSA).
Firms with business above that level, however, are subject to much more scrutiny and have to be authorised by the FSA instead, not merely registered.
"This means we have systems and controls reviewed by FSA," said Matthew Knowles of HiFX.
"We have enough money to ensure the firm is a going concern and client money is segregated and ring-fenced.
"So all payment money is in a completely separate account, as per FSA rules," he added.
So if such a firm did go bust, all client money should be identifiable and retrievable.
Any firm which is regulated this way should make it clear on its own website and can be checked on the FSA website too.
But it is worth noting that FX firms are not covered by the Financial Services Compensation Scheme (FSCS) in the event that client money was, in fact, lost.
One curiosity about this niche industry is why the banks do business with FX firms in the first place.
Surely they are stealing some of the banks' business - eating their lunch?
In fact, the relationship is symbiotic.
"We trade half a billion pounds each year," says Dr Tran.
"Due to the volumes that we trade, having our money in their accounts makes it financially viable for them to be our partners."
Matthew Knowles of HiFX agrees.
"What we provide the banks is a hugely professional business, with a huge flow, and we are not just stealing clients from Barclays, who are our key banking partner, we are taking market share off all the other banks in the UK," he says.
The service on offer from the big FX firms is quite sophisticated, not just based on one man, a computer and a telephone, which is how some of them started.
Opening an account is quick and can be done over the phone or the internet.
And two or three big firms even let you do your own buying and selling yourself via your internet account.
How much can you save? There is no standard single answer.
"You can save between 1% and 4% on the value of the foreign money you are buying, depending on the amount being moved," says Matthew Knowles at HiFX.
Dr Tran at Currency Solutions says: "The higher the amounts, the more the customer can gain."
"Exchange rates fluctuate on a daily basis and even a small fluctuation can potentially save the customer money," he adds.
Some firms have abolished altogether the standard bank fee of £25 for each transfer.
Other specialist FX firms do levy a charge, though less than a bank would - for instance, about £10 for amounts smaller than £10,000.
Holding the customers' hands and giving them guidance about when to buy currency and move it is also very much part of their service.
"On a typical straightforward transaction of, say, £100,000, we will be able to save 1% to 2%, but it all depends on what is happening at the moment," says Rupert Lee-Browne at Caxton FX.
"We had one client who was buying a property in Florida for about £700,000, we saw which way the market was going, woke her up in the middle of the night and saved her £30,000."
Related Internet Links
The BBC is not responsible for the content of external sites.