Facebook founder Zuckerberg to give away most of wealth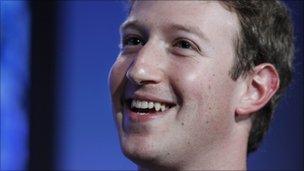 Facebook co-founder Mark Zuckerberg has become one of the latest billionaires to pledge to give away the majority of his wealth.
He is one of 17 new people to support a group, founded by Bill Gates and his wife along with Warren Buffett, which encourages America's wealthiest to publicly promise to donate to charity.
At 26, Mark Zuckerberg is one of the youngest to sign up.
Earlier this year, he gave $100m in shares to schools in New Jersey.
"People wait until late in their career to give back. But why wait when there is so much to be done?" he asked in a statement.
"With a generation of younger folks who have thrived on the success of their companies, there is a big opportunity for many of us to give back earlier in our lifetime and see the impact of our philanthropic efforts."
Mr Zuckerberg, estimated to be worth $6.9bn (£4.4bn), was placed 35th in this year's Forbes list of the richest people in the US.
The Giving Pledge initiative was launched earlier this year. It was announced in August that 40 individuals or families had made the pledge.
Some of the super rich prefer to give to charities anonymously, but the Giving Pledge stresses the importance of being open about donations.
"Research shows that when people know that others are giving, they are themselves more likely to give," said Princeton University's Peter Singer in a statement released by the Giving Pledge.
Billionaire investor Carl Icahn, who also signed up this month, said he had not previously considered going public.
"However, I certainly see the value of a project that encourages wealthy individuals to step forward and commit to use their wealth for the common good," he said.
"I hope that by adding my voice with those who are supporting this project, we will all encourage others to participate."
There was also a sign that the founders may take the Giving Pledge outside the US.
Warren Buffett and the Gateses are talking to other billionaires from around the world to learn about their philanthropy efforts, a statement said.
Related Internet Links
The BBC is not responsible for the content of external sites.