Borders bookseller doubles losses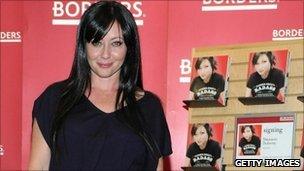 Bookseller Borders has seen its losses double in the third quarter of the year.
It made a loss of $74.4m (£63m) between August and October, almost twice as much as the $37.7m it lost in the same period a year earlier.
Sales excluding new store openings were down 12.6%.
The group also warned that it could be in violation of the terms of a credit agreement in 2011 if it could not raise sufficient funds in time.
"Our third-quarter results reflect the business challenges facing Borders and the industry at large," said chief executive Mike Edwards.
While it was "disappointed" with the results, Borders had begun to "vigorously address these challenges", he added.
He pointed in particular to the success of its rewards programme, which was launched earlier this year and had attracted 580,000 members.
Total sales were down 17.6%, due in large part to the closure of more than 200 stores in the last year.
Its shares fell more than 7% in after-hours trading.
Borders said its borrowing capacity had been hit after the value of its stock had been reduced after an inspection by a third party.
As a result of this - and falling sales - the company was taking steps to try to raise more funds, its statement said.
It intends to sell some stores and is talking to lenders to try to raise more cash.
Borders said it believed enough financing would be forthcoming to see it through to 2012.
However it added: "If the steps we are taking are not successful, "we could be in violation of our credit agreements in the first quarter of 2011, which could result in a liquidity shortfall".
This indication of a potential credit squeeze on the bookseller came in the week that a number of investors offered to help Borders bid for its larger rival Barnes and Noble.
Hedge fund boss William Ackman, whose firm owns 37% of Borders, said it would help finance a bid, worth close $960m.
Borders' chief executive said he welcomed the intervention, but refused to comment further, according to news agencies.
"We previously expressed to Barnes and Noble our interest in such a business combination and look forward to continuing those discussions," said Mr Edwards.
Related Internet Links
The BBC is not responsible for the content of external sites.