UK petrol prices reach record high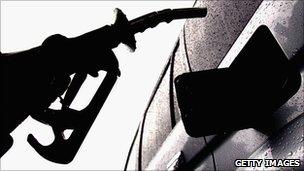 Petrol prices have hit a record average level of 121.76p for a litre of unleaded petrol, according to the monitors Experian Catalist.
It is expected that fuel prices will rise further in January once increased fuel duties and the higher VAT rate come into play.
Experian Catalist estimates that higher VAT will add 2.5p and fuel duties will add a further 1p a litre to prices.
The diesel price of 125.73p a litre is 8p away from its record of July 2008.
The records referred to do not take account of inflation.
AA president Edmund King said the record high petrol prices were partly down to the freezing weather disrupting fuel deliveries.
The price of oil - currently at about $90 a barrel - has been trading at its highest level for this year and is also putting pressure on fuel prices.
The AA said the record fuel prices meant motorists would have to pay an average of almost £6 more to fill an average tank compared with the start of the year.
Mr King told the BBC: "The gloomy thing on the horizon, quite frankly, is come January, we've got the VAT hike, plus another increase in fuel duty - and, those things combined will add about another 3.5p a litre.
"So, for those people dependent on road transport, it's not looking like a very happy Christmas or indeed New Year."
The RAC's motoring strategist, Adrian Tink, said: "It's unbelievable to think that, compared with this time last year, petrol is 13p a litre more expensive.
"While the increases this year have been driven by a number of factors, you can't get away from the fact that we have seen five rises in fuel duty in the past two years - and we're due another one in January, plus a VAT rise."
He called for January's fuel duty rise to be cancelled.
I paid 126.99p a litre for diesel this week in Forfar. Interesting in that when VAT was dropped to 15% last year, fuel tax was increased to compensate so that we wouldn't benefit from cheaper fuel but when VAT went back up -- guess what -- the fuel tax did not come down again. It's about time motorists got some fair play! Alan Lord, Brechin, Scotland
Diesel prices seem to rise everytime I blink. My business depends on fuel, but try passing any rises on to customers. Given the current economic climate, people do not have any loyalties. Prices in this area are already at 127.9p a litre. T Goswell, Wisbech, Cambridgeshire, UK
I paid 124.9p a litre this morning for standard unleaded at Cirencester Co-op garage (ex-Somerfields). Fuel is traditionally expensive in the Cotswolds. Robin F. Morton, Cirencester, UK
I've noticed a drastic rise recently in Northampton. It's scandalous the amount we're paying. It's rip-off Britain at its worst. Seems drivers are an easy target for ridiculous taxes. I'm hoping the drivers rise up soon and we get more blockading of terminals. It can't keep rising like it does. Alan Dobson, Northampton, UK
I have been paying 125.9p a litre for many weeks now. Unfortunately people like me who live in a rural area always end up paying more for fuel. Rosalind Nelson, Lanark, South Lanarkshire, Scotland
The price of diesel locally is currently 127.99p a litre (Jet garage). It seems to be increasing daily round here! David Penhale, Wadebridge, Cornwall, UK
Unleaded petrol is now 121.9p a litre. It has risen 3p a litre in the last three weeks and is due to go up again in the new year. We have noticed the increase and it is going to be even worse in the next few weeks. Danny P, Ross-on-Wye, Herefordshire, UK
Related Internet Links
The BBC is not responsible for the content of external sites.