Npower to raise gas and electricity prices by 5%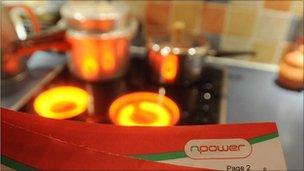 Customers of energy company Npower will see their gas and electricity bills rise by 5.1% from 4 January.
The change will mean the typical dual-fuel customer with Npower will see their annual bill rise by £54, the firm said.
The announcement comes on the day that British Gas customers started paying more for their energy.
Meanwhile, E.On said it was still monitoring the market but would not raise prices before January.
Npower, which said it would leave its social tariff for vulnerable customers unchanged until April 2011, blamed a 50% rise in wholesale prices in the past 12 months for the increase - its first for domestic customers in two years.
"When wholesale costs are driving prices up it is a good time to review the way you manage your energy," said Kevin Miles, chief executive of Npower retail.
The move is the latest in a string of price rise announcements made by the major energy suppliers in the UK.
In the last week of November, Scottish Power increased electricity bills by an average of 8.9% and prices for gas customers increased by an average of 2%.
Scottish and Southern Energy followed by putting up its domestic gas tariffs by 9.4% at the start of December. The 7% rise in gas and electricity bills for British Gas customers has now also kicked in.
EDF Energy said that it was keeping its prices on hold during the winter, with no change before March 2011.
E.On said it was monitoring the wholesale markets before making any decision, but would not raise prices before January.
Earlier this week, the bosses of five of the big six energy companies told a committee of MPs that bills were likely to rise in years to come.
They told the Energy Committee that the "inevitable direction of wholesale prices" meant domestic bills would get more expensive over the next decade.
Prices quoted when bills are changed are an average for customers across the UK. However, issues such as transportation costs mean a different amount can be charged depending on where customers live.
Figures from watchdog Consumer Focus show that people in different parts of the UK - with the same energy supplier - have bills that vary by up to £59 a year.
Reacting to the latest price rises, Audrey Gallacher, head of energy at Consumer Focus, said: "Npower customers will have been bracing themselves for this bad news after the increases from other firms, but that will not make them any less worried about affording their bills this winter.
"With four of the big six suppliers having now announced price rises averaging 6%, the focus on [regulator] Ofgem's review of whether energy prices are justified will be even sharper."
In November, Ofgem announced that it would conduct a review into the domestic energy market after figures showed a sharp rise in suppliers' profit margins to £90 per typical customer.
Related Internet Links
The BBC is not responsible for the content of external sites.