Russian football revolution sparks fierce debates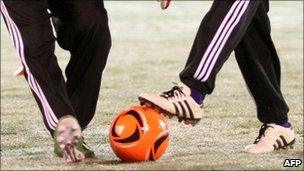 While Russia has been celebrating victory in the race to host the 2018 football World Cup, its football community has been busy arguing over dramatic changes to the national championship's format.
After decades of having the season run from spring to autumn, the Russian Football Union (RFU) decided earlier this year to switch to the "autumn-to-spring" model used by most major European leagues.
The last games of the 2010 season in the Russian Premier League were played at the end of November, many of them in very cold and snowy conditions, even for Russia.
The next - transitional - championship will start in early spring in 2011 and end in late spring in 2012. The first "autumn-to-spring" tournament will be held soon afterwards.
RFU head Sergei Fursenko argues that the change will lead to considerable improvements in Russia's football infrastructure, including that of the lower leagues.
But the majority of clubs in those leagues have been strongly against the new calendar.
They say that the change could kill off a number of football clubs and, as a result, their football academies, because of the cost of the infrastructure upgrade needed - a suggestion the RFU strongly denies.
'Fighting reconnaissance mission'
Strictly speaking, nobody is talking about playing football right through the winter.
The new "autumn-to-spring" tournament will be initially held in the same months as before (March to November), with the first and second halves of the season swapped.
Then, when the three-year transitional period is over, several early winter games will be added, but only after the required infrastructure is in place, Mr Fursenko insists.
It includes upgrading existing stadiums and building indoor football arenas and reserve stadiums with artificial grass suitable for hosting games in winter.
Yuri Belous, the president of the Football Market group of companies, called the changes "a fighting reconnaissance mission".
He told the BBC's Russia Business Report that it would be great to have the luxury of implementing them during the period of 10 years, but added that "it is the way it is".
Mr Belous believes that RFU officials had no choice but to require infrastructure upgrades.
"We do need to start somewhere," said the expert.
"We have a lot of problems, but they need to be solved."
Mr Fursenko has estimated that up to 10bn roubles ($324m, £204m) would be needed for infrastructure upgrades.
He suggested that the money would come from federal and regional governments, as well as from private investors.
But the lower league clubs are not convinced they will have enough funds to meet the new requirements.
"They were told to expect [financial] help, but no details were given," said Russian sports expert Dmitry Navosha, director general of sport.ru web portal.
"Absolutely all Russian football clubs are loss-making, thus they have to get money from regional budgets and companies," he told the BBC's Russia Business Report.
As even top Russian clubs still make little money from television rights sold both in Russia and abroad, most of them are thought to operate with a deficit of at least several million dollars.
Football clubs in Russia tend to keep their budgets secret. CSKA Moscow, the 2005 Uefa Cup winner, has been one of the exceptions.
It announced last spring that its 2010 budget would reach $64m, with a profit of $168,000.
Zenit St Petersburg, the 2010 Russian Premier League champion, has been rumoured to have a budget of up to $100m.
Lower league clubs can only dream of these figures. The modest funds they get to spend are usually set by the budget of a city, region or company.
Sometimes the money they have at their disposal is barely enough to survive, let alone allow for any investment in modernising their stadiums.
But there is another - hidden - problem in the new "autumn-to-spring" model.
Both government and company budgets are drawn up according to a calendar year starting on 1 January.
In the case of a national championship running from autumn to spring, some clubs could find themselves in a state of uncertainty, as financing for the second half of the season could not be guaranteed.
So, with all that in mind, lower leagues clubs have been accusing the RFU of acting in the interest of several rich Premier League clubs interested in synchronising the national championship with the ones in England, Germany and Spain.
But the RFU argues that the new "autumn-to-spring" model would allow clubs to earn more money.
Football officials say that fewer people attend football games in summer, choosing to go on holiday or spend weekends in their country houses instead.
Also, they insist, it would be easier to sell television rights, attract big sponsors and buy good players abroad if the national tournament could be synchronised with other major European championships.
But Mr Navosha says that the player-transfer argument does not really stand up, as Russian transfer windows - the periods when a club could buy or sell players - have already been synchronised with the rest of Europe anyway.
"Last summer, seven players were bought by Russian clubs for 7m to 22m euros each," he says.
While the battles over the new format of the Russian national championship are being fought, most experts agree that the country will benefit from organising the 2018 World Cup.
"It will be an additional stimulus for upgrading Russia's football infrastructure," says Mr Belous.
Mr Navosha also points out that the 10bn-rouble figure, announced by Mr Fursenko, was calculated before Russia won the right to host the World Cup.
"No doubt, changes will need to be made to the new programme of developing football in Russia," he said.
Related Internet Links
The BBC is not responsible for the content of external sites.