Morgan Crucible ex-boss Ian Norris faces US sentence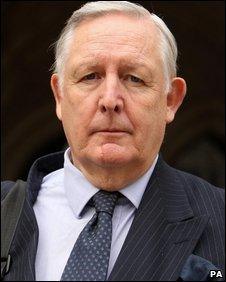 Ian Norris, a former UK executive who fought a long fight against extradition to the US, is due to be sentenced by Philadelphia court on Friday.
Mr Norris, 67, extradited in March after a seven-year fight, was convicted of obstruction of justice in July and faces a maximum five years in jail.
The former chief executive of engineer Morgan Crucible was found not guilty of two conspiracy charges.
Mr Norris, who suffered from prostate cancer, has been in prison since July.
His UK solicitor, Alistair Graham, of White & Case, said: "We are concerned that, having won on the two main charges, that the court shows leniency given Mr Norris's age and ill-health."
Mr Norris ran Morgan Crucible, which made components for the automotive and aerospace industries, for four years until 2002.
The charges against Mr Norris related to a cartel to fix the price of products in the US between 1989 and 1998.
His case gained prominence because the US authorities sought his removal from the UK under a controversial extradition treaty, introduced as part of measures to combat terrorism.
Eventually, the House of Lords refused his extradition on grounds of price-fixing.
US prosecutors then successfully moved to extradite him on obstruction of justice charges.
Related Internet Links
The BBC is not responsible for the content of external sites.