Plans to end cheques criticised by banks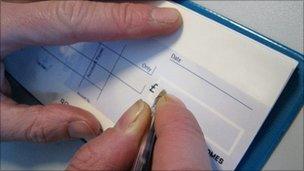 Plans to phase out cheques from 2018 have faced renewed criticism.
Conservative MP Andrew Tyrie, chairman of the Treasury select committee, said the banks' approach had been "high-handed" and the proposed change had been rushed through.
A final decision to switch off the conventional cheque clearing system is scheduled to be made in 2016.
The banks said the cheque clearing system would be closed only if good alternatives had been devised.
The Payments Council announced plans to phase out cheques in the UK last year.
Since then, it has come under pressure, especially from charities and the elderly, to justify the plan which would see cheques disappear by 2018.
MP Andrew Tyrie believes the banks have handled the proposed withdrawal of cheques very poorly, as he told Radio 4's Money Box programme:
"I was very concerned at what appeared to be a very high-handed approach to getting rid of cheques," he said.
"This was rushed through and not costed properly. We had the proposal announced before the work had been done," he added.
The banks have said they will at least consider creating a paper based alternative to cheques but not all financial institutions appear keen to promote this.
One high street bank told Money Box this announcement was "unhelpful."
Another said five different "voucher" payment systems were being considered, which would not require the sort of clearing facility currently required for cheques.
One theory is that the vouchers would be issued in a book like a cheque.
However customers would need to put the details of the payee's bank account on the voucher, which would also contain the customer's bank details in the same way as they are currently written on cheques.
The payee would then take it to their bank where an employee would turn it into an electronic payment.
They would clear more quickly than a cheque and would not require a special clearing facility.
However there are concerns about the fraud aspect if the books fall into the wrong hands.
The use of cheques has been in steady decline and the banking industry says it wants to manage that decline rather than let the use of cheques dwindle in a disorganised manner.
Its plan has proved controversial, especially with charities whose donations come mainly via cheques and with older people who are the heaviest users of cheques and who still rely on them rather than on telephone or internet banking.
And new electronic methods, such as using mobile phones to send money by text message, or using mobile phones as debit card readers, are also being looked at.
This received a mixed response from representative groups.
John Walker, national chairman of the Federation of Small Businesses (FSB), said: "The FSB is pleased that the banks are looking at an alternative paper-based system to replace the cheque.
"Cheques are vital to the way many consumers and businesses operate, and with millions of cheques written every day, many small businesses will be disadvantaged - especially in rural areas - if the cheque is to be completely abolished."
Michelle Mitchell, charity director at Age UK, said: "The announcement does nothing to reassure older people that an acceptable alternative payment system will be in place before cheques are withdrawn."
"Cheques should remain available to all customers until an acceptable alternative which meets the needs of all who rely on cheques is in operation," she added.
The industry admits it has a long way to go to explain to the general public what is happening.
The Payments Council's own research has shown that 55% of people are still unaware that the cheque clearing system may close in 2018.
Of those who do know it is going to shut, 25% think this will happen in 2011 or 2012.
In fact, 30 June 2011 is the date from when cheques will no longer be guaranteed by plastic guarantee cards.
In the past year, the Payments Council has been consulting more than 300 groups of cheque users representing individuals, charities, and businesses.
Those consultations will continue and a final decision to switch off the conventional cheque clearing system is scheduled to be made in 2016.
However, if the 2018 target date is deemed not feasible, either in 2016 or at an earlier review date of 2014, then the plan could be revised or the implementation date moved.
The body, while sticking to its aim, says cheque facilities will stay until new payment methods have been adopted.
"Cheques will continue until alternatives are in place," promised Paul Smee, chief executive of the Payments Council.
The Payments Council stressed that alternatives to the cheque will have to be not only in existence but also "available, acceptable and widely adopted".
"We have set ourselves a massive challenge," it said.
BBC Radio 4's Money Box is broadcast on Saturdays at 1200 BST, and repeated on Sundays at 2100 BST.
Related Internet Links
The BBC is not responsible for the content of external sites.