Airbus's Leahy 'investigated for insider trading'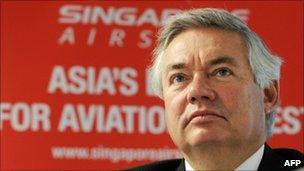 A top executive at European plane maker Airbus has been placed under formal investigation for insider trading by French authorities, reports suggest.
Commercial director John Leahy sold shares in parent company EADS before their price fell sharply in 2006, AFP and Reuters news agencies report.
French authorities are investigating whether the sale was triggered by inside information, they say.
Mr Leahy has denied the accusations in the past.
An independent investigation last year commissioned by France's financial watchdog, the Autorite des Marches Financiers (AMF), looked into the allegations that a number of executives at Airbus and EADS profited from inside information.
The allegations suggested they sold shares ahead of an announcement there would be delays in deliveries of Airbus's A380 plane.
Once these delays were made public, shares in EADS fell sharply.
The AMF investigation cleared all 17 executives of insider trading.
Related Internet Links
The BBC is not responsible for the content of external sites.