Evo Morales introduces radical Bolivia pension reform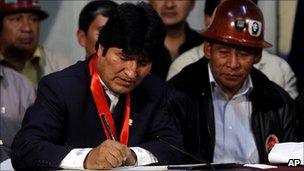 Bolivia has passed a new pension law that lowers the retirement age from 65 to 58, bucking a global trend for raising the pension age to cope with rising life expectancies.
The new law also nationalises pension funds and extends the state pension to people working in the informal sector.
President Evo Morales said he was keeping his promise to create a pension regime that includes all Bolivians.
Critics say Bolivia will struggle to fund the system in the long term.
Mr Morales signed the new law at the headquarters of Bolivia's main trades union federation, surrounded by miners, peasants and urban workers.
The law - which will take effect next year - will for the first time give pensions to the 60% of the workforce who work in informal jobs - such as market traders or taxi drivers - as long as they make contributions.
Women - for whom the current pensionable age is 60 - will be able to retire at 55 if they have more than three children.
Miners who work in harsh conditions deep underground will also be able to retire earlier.
Business leaders have criticised the scheme, saying it is unsustainable.
The Bolivian government has not fully explained the financial details of how the scheme will work, but Mr Morales has always made it clear that he will use Bolivia's natural gas wealth to help the poor majority.
Many other countries have recently increased the pension age to deal with rising life expectancy and an aging population.
But Bolivian ministers say theirs is a special case, as many Bolivians work in harsh manual jobs that are difficult to continue as they get older, and life expectancy is only 62 years for men and 65 years for women.
Bolivia privatized pension funds 13 years ago after a state-run system collapsed.
Related Internet Links
The BBC is not responsible for the content of external sites.