UK household finances still stretched, survey suggests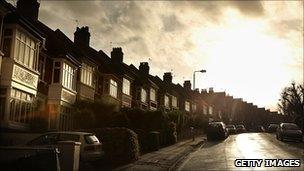 UK households are still struggling financially, a survey has suggested.
The annual poll of almost 2,000 homes for the Bank of England found more than half struggled to meet repayments for credit card or other unsecured debts.
About 22% of people said they were put off spending because of concern that it was becoming harder to borrow, up from 17% a year ago.
The survey also found that 90% of respondents expect to be heavily affected by government austerity.
However, fewer than half had taken any steps in anticipation of the budget cuts, such as increasing savings, working longer hours or looking for a new job.
Nearly half of households expressed concerns about their level of debt, with a majority saying they had become more worried over the last two years.
Borrowing was also said to be getting more difficult, particularly for those with big mortgages, 50% of whom said credit availability had got worse.
A quarter of households reported struggling to meet bill payments, up from last year, though still slightly below 2008 levels.
Reliance on credit cards and personal loans also appeared to be a growing problem.
"The burden of unsecured debt has risen this year, most likely reflecting a combination of weak earnings growth and the interest rates on unsecured debt remaining high over the past two years," noted the Bank in its report on the survey.
Those debt concerns have translated into a higher savings rate.
Over a fifth of households said they were saving or intended to save more, although that was slightly down from a year ago.
Most of the planned saving is to be done by those under 35 and - worryingly for the economy - by those in the highest income brackets, meaning the impact on overall spending may be magnified.
The report noted that the Bank of England had provided a fillip to many households by cutting base rates to a record low of 0.5%.
Unsurprisingly, the biggest impact was on the 23% of mortgage borrowers with base-rate tracker mortgages.
The 20% on standard variable rate loans benefited less, at least in part because banks have not fully passed through the rate cuts.
However, in the context of the other data, it suggests that if the Bank has to raise rates again, it could have a seriously detrimental effect on the ability of many borrowers to keep up with their payments.
Related Internet Links
The BBC is not responsible for the content of external sites.