Eurozone set for muted recovery, says OECD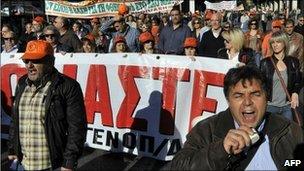 Economic activity in the eurozone has picked up but the recovery is likely to be muted, the Organisation for Economic Co-operation and Development has said.
Countries using the euro must consolidate public finances even though this is likely to dampen economic growth in the near term, the OECD said.
Its report said as soon as risks of high inflation in the medium term emerge, the European Central Bank (ECB) should withdraw stimulus measures.
ECB interest rates stand at 1%.
The central bank's target for inflation is just below 2%.
The OECD forecasts annual economic growth of 1.5% to 2% over the coming two years.
In its economic survey of the euro area, it recommends that governments improve fiscal discipline, upgrade financial regulation, and implement reforms to boost growth and competitiveness.
It said that the global financial crisis had provided "the first major test of the robustness of the euro area in a downturn".
Both Greece and the Irish Republic have had to be bailed out this year as the debt crisis in Europe has worsened, and there have been concerns that Portugal could also need to be rescued.
"Fiscal consolidation should begin no later than 2011 and a sustained period of adjustment is required," the OECD report said.
"Potential output is likely to be lower in the wake of the crisis, underlining the importance of structural reforms in labour and product markets to boost economic performance.
"Lessons should be drawn from the crisis to make the economy more robust and reduce the risks from economic, financial and fiscal instability."
Related Internet Links
The BBC is not responsible for the content of external sites.