Royal Mail takes on 3,000 more staff to beat weather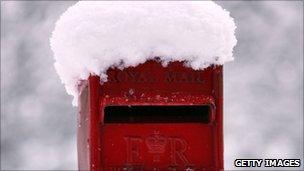 Royal Mail has said it is committing an extra £20m to cope with deliveries during the severe weather, including recruiting 3,000 temporary staff.
Royal Mail has already taken on 20,000 temporary staff to handle the increased workload at this time of year.
But weather-related disruption meant more people were needed, as well as 250 extra lorries and 500 HGV drivers.
It comes as supermarkets Tesco and Sainsbury's halted deliveries to Scotland of groceries ordered online.
Royal Mail said much of the extra resources are being deployed across the North East, Midlands and Scotland, where the snow has been at its worst.
Last week, the service apologised to some customers, saying that freezing temperatures meant it was "simply not currently possible" to deliver mail in some cases.
Weathermen say it has been the coldest December for 30 years, with snow hitting much of the UK - and with more on the way.
In a rare move, Royal Mail delivered on Sunday to about 1 million addresses, mostly in north England and Scoltand.
The service frequently operates on the Sunday before Christmas day, but not on the two consecutive Sunday's before 25 December.
Royal Mail has also supended its next-day guarantee promise for special deliveries.
The organisation expects to handle about 750 million Christmas cards this year, as well as an estimated 165 million items ordered online.
The postal service estimates that Monday 13 December will be its busiest day of the festive period, with Royal Mail handling some 130 million cards, letters, and packages.
Several other companies have reported delivery problems in Scotland, including Marks and Spencer and online retailer Boden.
Boden's website warns customers: "Heavy snowfall and icy roads mean that deliveries to Scotland are likely to be delayed. Please be patient, we will get your parcels to you as swiftly as possible."
On Monday, Tesco Direct stopped taking orders from customers in Scotland because it could not guarantee deliveries in time for Christmas.
The delivery contractor used by Tesco has a 14-day back-log of parcels.
Sainsbury's has also suspended deliveries for Scotland, and Parcel Force took similar action at the weekend.
And Marks and Spencer is not accepting any home delivery orders for Scotland while it tries to clear a week-long backlog.
Related Internet Links
The BBC is not responsible for the content of external sites.