England 2018 World Cup bid sponsor seeks compensation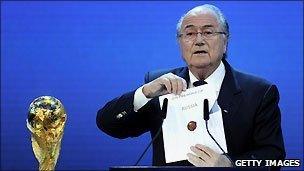 Grocer Morrisons has said it wants Fifa to pay £1m ($1.6m) to grass-roots English football over what it called an "unfair" World Cup bidding process.
It has instructed lawyers in Switzerland to "examine options" over whether compensation can be claimed.
The Bradford-based firm became a backer of England's 2018 campaign in February.
Backed by ex-England star Alan Shearer, the firm gathered 1.6m signatures in support of England, only to see Russia secure the hosting prize.
Despite a high-profile and technically-acclaimed bid, England gained only two votes and went out in the first round of the World Cup 2018 bidding process.
Morrisons' chief executive Dalton Philips has now written to Sepp Blatter, president of world governing body Fifa.
Mr Philips said the bidding process was unfair as Fifa was determined to stage the World Cup in countries which had not hosted the event before.
As well as Russia in 2018, Qatar was named as host to stage the 2022 tournament.
"The FA team put together a fantastic bid," said Richard Taylor, Morrisons director of corporate affairs and communications.
"On behalf of our customer we are disappointed that the merits of the bid were not recognised by Fifa, which clearly was intent on locating the 2018 World Cup in an emerging country.
"As we think the decision-making process was unfair, we have instructed lawyers in Switzerland to examine our options under Swiss law.
"We hope Fifa will do the right thing and offer £1m to be invested in grass-roots football."
But Fifa has stood by its decision-making process since the World Cup decisions were made in Zurich on 2 December.
And last week, general secretary Jerome Valcke, said Fifa had seen no reason to amend the way decisions were made.
He also said he was certain Fifa's voting process was fair.
Related Internet Links
The BBC is not responsible for the content of external sites.