Portugal asks China to buy its government bonds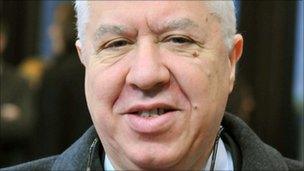 Portugal's finance minister is in Beijing to try to persuade Chinese authorities to buy Portuguese government bonds.
The visit by Fernando Teixeira dos Santos comes as Portugal continues to try to sort out its finances without needing a European Union-led bail-out.
Mr Teixeira dos Santos made a similar trip to Brazil in recent days.
China is already a major buyer of European government bonds and has vowed to continue to do so.
Portugal has an extensive public deficit. So much so that many economic commentators continue to say it will likely have to follow Greece and the Republic of Ireland and seek emergency loans from the European Union and International Monetary Fund.
Concerns about Portugal's finances has meant that it has had to offer higher interest rates on its bonds in order to attract buyers, making it more expensive for Lisbon to raise money.
On his visit to Brazil, Mr Teixeira dos Santos said Portugal wanted to diversify the range of investors in its government bonds well beyond Europe.
His visit to China has been much more low key, and it was not announced in any official statement.
However, a Portuguese official confirmed to the BBC that it was taking place.
Related Internet Links
The BBC is not responsible for the content of external sites.