UK inflation rate rises to 3.3% in November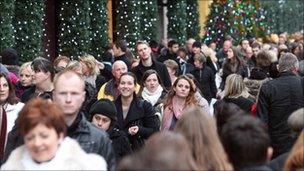 The UK Consumer Prices Index (CPI) annual inflation rate rose to 3.3% in November, up from 3.2% in October.
It followed record price rises for the October to November period in food, clothing and furniture.
Retail Prices Index (RPI) inflation - which includes mortgage interest payments - rose to 4.7% from 4.5%.
One Bank of England interest rate policymaker said he expected CPI to hit 4% next year due to the VAT increase, and that interest rates needed to rise.
In an interview with the BBC, Andrew Sentance said he favoured a gradual raising of rates.
Mr Sentance is the only member of the Bank's Monetary Policy Committee to have recently voted for rates to rise from their current record low of 0.5%.
"I think the worry I would have is if we don't begin to move interest rates up gradually now, we will find further down the track that we actually have to move them up more sharply," he told BBC Radio 4's World At One programme.
"And that could deliver a bigger jolt to confidence in the economy in the future."
He said a lack of movement on rates, when price rises had been above the 2% target for a year, could be "a risk to the Bank's credibility".
The majority of his fellow members still favour taking no action on rates.
On Monday, Charles Bean, the Bank of England's deputy governor, said the Bank's policymakers were watching inflationary pressures "like proverbial hawks".
However, he also said that if growth weakened it might be necessary to pump more more money into the economy in the form of another bout of quantitative easing (QE), which some economists think could unleash inflation.
"There are very significant downside risks, particularly from the eurozone sovereign debt crisis. If that unfolds in an unhappy fashion, I think it is quite plausible that it would have a significant adverse impact on the UK," he said.
"Under those circumstances, we might well want to undertake a further round of quantitative easing."
Commenting on the inflation figures, BNP Paribas economist Alan Clarke, said: "It's a disappointing number and it's only going to get worse in the next couple of months."
Some of the major energy companies have begun to raise energy bills, adding to the squeeze on household finances.
"Next month is utility bills, the month after that is VAT. It's all one-way traffic at the moment," Mr Clarke said.
Victoria Mayo, a spokesperson for the financial information company, Moneyfacts, said savers faced a battle to protect the value of their income.
She said: "Those who rely on their savings to supplement their income have been hardest hit, many of whom are pensioners.
"Basic rate tax payers need to earn 4.13% just to maintain the purchasing power of their savings, while higher rate tax payers at 40% need to earn 5.5%, a level that is only available on a handful of products."
Food and non-alcoholic drink prices were up by a record 1.6% between October and November, compared with a rise of 0.6% a year ago, the Office for National Statistics (ONS) said.
Clothing prices rose by 2%, also a record increase for the October to November period, with the biggest price rises found in men's outerwear.
This, in particular, surprised analysts, who had expected shops to be significantly discounting clothes before Christmas.
Furniture, household equipment and maintenance also showed a record price rise of 1.6% between October and November.
These latest rises mean consumers have seen some substantial price rises in the past year.
Food and transport prices are both more than 5% higher than a year ago, ONS figures showed.
Alcohol and tobacco prices have risen by 6.5% in the last year, while clothes and footwear prices are up 2.2%.
Some believe that the VAT rise from 17.5% to 20% will provide a screen that will allow retailers to put through more extensive price increases.
A report released on Tuesday by KPMG said that 60% of retailers and consumer product manufacturers planned to increase their prices over and above the VAT rise.
"There a number of things that are going to hit them, like fuel costs going up," said Martin Scott from KPMG. "So they are going to be under a lot of pressure to increase prices."
A British Retail Consortium spokesman, however, said the report was "nonsense".
The inflation rate has now remained above the 2% target by one percentage point or more for 12 months, and the Bank of England's governor, Mervyn King, has had to write four letters to the chancellor this year as a result.
But with the new government having announced the biggest round of budget cuts since World War II, the Bank still expects the resulting slowdown in spending to bring inflation down over the next two years.
However, as the BBC's chief economics correspondent Hugh Pym said, confidence in the Bank's predictions could wane if the New Year heralds more gloomy inflation news.
Related Internet Links
The BBC is not responsible for the content of external sites.