PPI complaints stalled by banks, Ombudsman reveals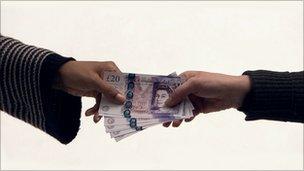 Some banks are stalling on dealing with customers' complaints about payment protection insurance (PPI), the Financial Ombudsman Service (FOS) says.
The FOS said the banks were refusing to handle the complaints within the required eight weeks.
They are doing this because they are going to court next January to challenge new rules on dealing with complaints about PPI mis-selling.
However, the FOS said it was now facing a backlog of unresolved complaints.
"Many businesses are continuing to handle complaints as normal but some have decided that they will not respond substantively to many PPI complaints until the final legal outcome is known," said the FOS in its latest newsletter.
"Where businesses do not set out clear views on cases, it will be difficult for our adjudicators to resolve cases informally.
"Inevitably this can only result in further delays and additional costs," the FOS added.
PPI policies are supposed to pay people so they can continue to pay their mortgages, credit card bills or other loans, if they fall ill or lose their jobs.
The sale of the insurance has been highly profitable for the UK's banks in the past decade, but has been criticised as little more than a legalised "protection racket" by consumer groups.
After years of pressure from them, and official enquires by the Office of Fair Trading and Competition Commission, the authorities have begun acting to restrict new PPI sales, and to enforce more rigorous compensation for past mis-sales.
In October, the British Bankers' Association (BBA) said it would go to the High Court to challenge the new industry-wide rules, on dealing with past and new complaints, that were imposed by the Financial Services Authority at the beginning of December.
The BBA warned at the time that this would mean banks putting some complaints on hold until the court case had been resolved.
The FOS said it was currently receiving 2,500 PPI complaints a week.
Earlier this year, the FSA estimated that, as a result of its new measures, banks would be forced to deal with about 550,000 complaints a year for the next five years.
It also estimated that the average compensation would vary from £900 to £1,800, depending on the type of policy that had been sold.
The regulator believes this could land the industry with a further compensation bill amounting to £2.7bn, which will need to be paid to two and three quarter million people.
The Competition Commission has decided separately that banks should no longer be able to sell PPI policies at the same time as they agree to make loans to their customers.
Related Internet Links
The BBC is not responsible for the content of external sites.