Scottish shops hope for Christmas catch-up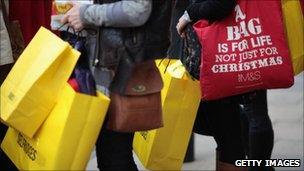 The latest figures from the Scottish Retail Consortium have shown slight rise in sales in November.
Spending grew by 3.4% during the month, a much stronger rise than the UK rate of 2.8%.
However, like-for-like sales, which strips out the effect of new store openings, showed no growth at all.
The SRC said the bad weather towards the end of November and in the first 10 days of December disrupted sales.
Its director, Fiona Moriarty, said: "We'll see the full impact of the weather disruption in next month's figures but it has dramatically undermined trade in the last few weeks.
"Retailers will be hoping those sales are made up over the next 10 days and not lost entirely."
Sales of food and drink picked up during November with growth at its strongest since October 2009, but other items such as clothing and flooring struggled.
The consortium said consumer confidence remained much lower in Scotland than in the UK and shoppers were cautious about spending money.
David McCorquodale, head of retail in Scotland for KPMG, said: "Non-food sales declined by 2.3% in the month, this was partly driven by consumers remaining cautious in the current economic climate.
"The relatively mild weather during November also deferred the switch from autumn to winter clothing and therefore impacted the sale of apparel items."
Shopkeepers may be hoping for a last-minute rush but Mr McCorquodale said this could also create problems.
"This will put pressure on the supply chains of retailers if they are to get the right availability of the right stock on their shelves," he said.
Related Internet Links
The BBC is not responsible for the content of external sites.