US economic growth 'too slow to lower unemployment'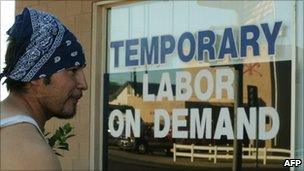 The US economic recovery is still too slow to bring down the country's high level of unemployment, the Federal Reserve has warned.
The central bank made the comment as it reaffirmed its commitment to continue purchasing $600bn (£380bn) in bonds to stimulate the economy.
The Federal Reserve also kept US interest rates on hold at between 0% and 0.25%, as had been widely expected.
US unemployment hit 9.8% in November, its highest level since April.
Just 39,000 jobs were created last month, down from 172,000 in October, meaning 15.1 million people were without work.
The US unemployment rate has now been above 9% for 19 months, the longest stretch on record.
The most recent data showed that the US economy grew by an annualised rate of 2.5% between July and September.
However this is not sufficient growth to allow job creation to keep up with the growing US working-age population.
The Fed's latest $600bn stimulus package was announced at the start of November.
The central bank had already pumped $1.75tn into the economy since the recession.
Related Internet Links
The BBC is not responsible for the content of external sites.