Japanese business confidence down, tankan survey says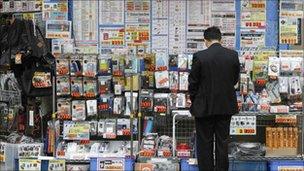 Confidence among Japanese companies has fallen for the first time in almost two years, an influential report suggests.
The strong yen and slowing exports hit corporate sentiment, according to the Bank of Japan's tankan survey.
The index is seen as a barometer to the country's economic health and plays a role in driving monetary policy.
It had climbed for six consecutive quarters as Japan began a recovery from deep recession, but fell in December.
The tankan's main index, which reflects the views of large manufacturers, fell to 5 from 8 three months ago.
That figure is the percentage of firms believing business conditions are good, minus those saying conditions are unfavourable.
About 12,000 companies were quizzed for the central bank's report.
Analysts said that the survey suggested that firms were preparing for tougher times ahead.
Japan relies heavily on exports - notably of cars and electronics - but the strong yen has hurt its economy by making goods less competitive abroad. It also eats into profits made by firms' overseas when they are brought back to Japan.
Recent data has added to worries for the Japanese economy - which is the world's third-largest.
Factories have cut production, consumer spending has fallen and the unemployment rate is at an historic high of just over 5%.
Last month, the government passed a fresh $61bn (£38.8bn) stimulus package, with an emphasis on supporting small businesses and regional economies.
And earlier this week, plans were announced to trim corporation tax by 5% to try to stimulate the economy and encourage Japanese firms not to relocate to countries with lower tax rates.
Related Internet Links
The BBC is not responsible for the content of external sites.