Electrolux set to cut 2,100 jobs in Canada and Europe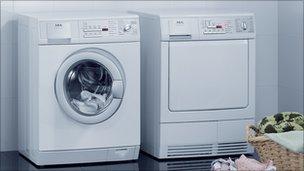 Swedish household appliance maker Electrolux is to cut costs by shedding 2,100 jobs in Europe and Canada in the next three years.
The Stockholm-based firm is to close a cooking appliances manufacturing plant in l'Assomption, Quebec, Canada, at the end of 2013.
Production at the plant, which employs 1,300 staff, will be transferred to a lower-cost facility in 2012.
Another 800 employees in Europe will be laid off through 2011 and 2012.
The staff cuts will be made within its "major appliances" arm of industrial operations.
The redundancies will cost about 950m kronor ($140m; £88m).
The household appliance sector has seen increased restructuring moves in recent years, as sales have stalled and competition from low-cost countries has risen.
Electrolux has closed many sites recently, in France, Italy, Spain, US, Russia and in China.
"Apart from the challenges of the recession, consumers are demanding competitively priced products featuring the latest technologies, requiring manufacturers to continually reinvest in product innovation while managing costs," said Billy Benson, of Electrolux North America.
Related Internet Links
The BBC is not responsible for the content of external sites.