RBS: FSA to publish limited report into failings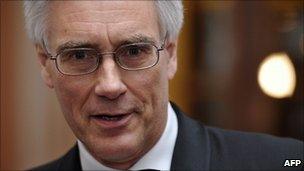 The Financial Services Authority (FSA) has pledged to publish a limited report on its findings of what went wrong at Royal Bank of Scotland (RBS).
It follows criticism of RBS by FSA chairman Lord Turner for blocking its plans to release the full findings of its investigation into the bank.
He said RBS had "made it plain" that it did not wish to "provide consent".
RBS said it would "engage constructively" to help publication of the limited report, due in March.
FSA ruled on 2 December that RBS had made bad decisions ahead of a government bail-out in 2008, but cleared it of any wrongdoing.
The financial regulator has been widely criticised for not producing a full report of its findings, but Lord Turner said on Wednesday that RBS had refused to give it permission to release the full documentation of its investigation.
In an open letter to Treasury Committee chairman Andrew Tyrie, Lord Turner said RBS's stance had been "extremely unsatisfactory".
He added that the FSA was now moving to produce a summary version, but again that it still needed the bank's consent to publish even that.
RBS said it would agree to this "when the FSA has determined the confidential material it wishes to release publicly".
Yet it added that any move on its part would be "subject to any commercial constraints".
Business Secretary Vince Cable welcomed the announcement that the FSA now hoped to release a summary report.
He added: "Looking to the future, what this episode has demonstrated is a lack of transparency.
"It is important that where there is a legitimate public interest, reports such as these should be published subject to the necessary safeguards."
The FSA investigation followed the near-collapse of RBS, which was saved only after the government stepped in with a rescue package that has left the taxpayer owning 84% of the bank.
It accused RBS executives of poor judgment in connection with the acquisition of Dutch bank ABN Amro, which left the UK bank severely undercapitalised going into the 2008 financial crisis.
Lord Turner also said that the watchdog wants to change the rules so that reports can be made public without other parties' consent in similar cases in the future, because of the legitimate public interest involved.
"We believe we have already publicly argued that this legal regime is inappropriate in instances where a bank has been resolved or has been rescued to prevent failure [as was the case with RBS]," he said.
He noted in his written response to the MP that "a number of other enquiries are still at various stages of progress and subject to confidentiality constraints".
The FSA is currently conducting an investigation into HBOS.
Related Internet Links
The BBC is not responsible for the content of external sites.