Warm Front fund closes until April as 2010 cash spent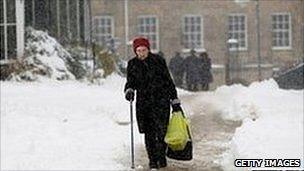 A scheme to help poor and vulnerable customers get grants to insulate their homes has been put on hold as money has run out for this year's programme.
The Department of Energy & Climate Change said applicants who had already registered for the Warm Front scheme would not be affected.
It also said it meant 76,000 heating and insulation jobs would be completed "as far as possible" by next March.
But watchdog Consumer Focus says the freeze will hit the poorest hardest.
Warm Front is the only government-funded scheme to tackle fuel poverty and improve energy efficiency.
But the scheme will not now reopen to new applicants until April.
And Consumer Focus is worried that 50,000 of the poorest households, who are already on the waiting list for help from the scheme, could be without the help needed to keep their homes warm.
Consumer Focus is further concerned that funding for the scheme will be cut to £110m for the next financial year starting from April 2010, from the £345m spent in 2010/11.
That figure will fall further to £100m in 2012/13.
Consumer Focus fears that as a result the number of the poorest households on the waiting list for help will increase dramatically over the next two years.
'Thousands of low income homes will be hit not only by the freezing weather, but also by the freezing of the government scheme set up to make their homes warmer," said Audrey Gallacher, head of energy at Consumer Focus.
"This could leave many of the most vulnerable pensioners, families and disabled people without the help they need to keep their homes warm and cut their bills."
She said that funding for Warm Front had been cut by two-thirds, meaning that when the scheme starts again in April "it will be on a drastically reduced scale and the waiting list of thousands will get even longer".
Energy and Climate Change Secretary Chris Huhne said: Warm Front will be back, and we will make the available funds work harder by focusing help on the oldest and poorest people."
The scheme helps vulnerable people with their heating via insulation and heating improvements up to the value of £3,500.
Depending on an applicant's needs, Warm Front will pay for things such as loft insulation, draught proofing, gas room heaters with thermostat controls, gas, electric or oil central heating.
Energy advice and two low-energy light bulbs are also available.
But the government has said it intends to discontinue the publicly-funded scheme from 2013.
Instead, energy supplier-run schemes will then be expected to provide energy efficiency measures to low income households under the Energy Company Obligation (ECO).
Related Internet Links
The BBC is not responsible for the content of external sites.