Virgin Blue's deal with Air New Zealand backed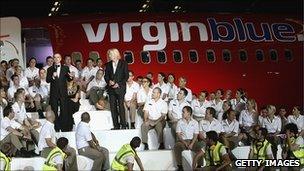 An alliance between Australian budget airline Virgin Blue and Air New Zealand has been approved by Australia's competition watchdog.
The regulator said it would allow the carriers to co-ordinate prices, scheduling, capacity and routes for flights between the two countries.
It had rejected the plan in a draft decision in September.
But it said it now had more information about the probable impact on customers and felt able to back the plans.
One condition of the approval was for more seats to be made available on certain flights to restrict the ability of the two airlines to raise fares.
"We consider that the alliance is likely to benefit passengers in a number of ways including more choice of routes and frequencies, and potentially lower fares as a result of cost savings and efficiency improvements," said chairman of the Australian Competition and Consumer Commission (ACCC), Graeme Samuel.
There had been particular concerns over the impact on competition between Australian cities and the New Zealand capital, Wellington.
But the ACCC said it was "now satisfied that the identified public benefits, in combination with the conditions of authorisation, are likely to be sufficient to outweigh any public detriment arising from the alliance".
Virgin Blue shares rose by 5.9% in Thursday trading after the ruling.
The ACCC has also given it provisional approval for an alliance with Abu Dhabi-based Etihad to expand services to the Middle East.
Related Internet Links
The BBC is not responsible for the content of external sites.