Irish economy returns to growth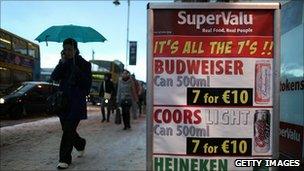 The Irish Republic's economy returned to growth between July and September, expanding by 0.5% on the previous three months, official figures have shown.
The figure was slightly below analysts' expectations.
The Republic's economy shrank in the second quarter after exiting recession in the first three months of the year.
Earlier this month, the Irish parliament passed the toughest budget in the country's history, designed to slash spending and raise taxes.
The Central Statistics Office said industry had led the economy's recovery.
Agriculture was the only other sector to expand quarter-on-quarter.
"Today's figures show that the economy has stabilised and is now on an export-led growth path," said Finance Minister Brian Lenihan.
"The budget day forecast for economic growth of 1.7% in 2011, which is in line with the consensus forecast, remains on track."
Despite the return to growth, analysts were quick to point out that the domestic economy remains subdued.
"It seems very clear that consumer spending has fallen, we know government spending has fallen, [as well as] capital spending. Domestic demand is still very weak," said Dan McLaughlin at the Bank of Ireland.
The Irish government plans to make 6bn euros ($8bn; £5bn) of cuts next year as part of a four-year, 15bn-euro austerity plan designed to bring the country's massive budget deficit under control.
The mixture of spending cuts and tax rises are a condition of an 85bn euro bail-out package for the Republic agreed by the European Union and the International Monetary Fund.
The Republic was forced to ask for assistance when international investors began to lose confidence in the country's economy because of its high debt levels.
Related Internet Links
The BBC is not responsible for the content of external sites.