Single house price index 'should be introduced'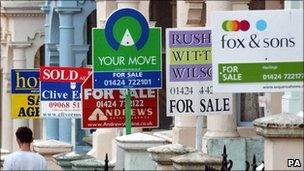 A single official house price index should be introduced in the UK, the government's chief adviser on official statistics has recommended.
National Statistician Jill Matheson carried out a review following user concerns about the coverage and clarity of official housing statistics.
The Department for Communities and Local Government (DCLG) produces housing statistics for the UK.
The Land Registry also provides data for England and Wales.
The two bodies have been asked to work together on the feasibility of producing a joint statistical report containing a headline house price index.
Additionally, lenders the Halifax and the Nationwide produce their own house price data which are widely used.
"There is a great deal of interest in and importance placed on changes in the value of our houses by all sections of society," Ms Matheson said.
"I want to be sure that official statistics producers are providing the right statistics on house prices to support decision making by us all."
Related Internet Links
The BBC is not responsible for the content of external sites.