UK home rental costs at new high, letting agents say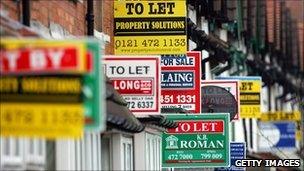 The average monthly cost of renting a home rose again in November, to a record £692, according to the LSL property index.
The survey was based on 18,000 properties let by LSL's letting agents such as Your Move and Reeds Rains.
However, LSL said the increase in rents was slowing down, with an increase of just 0.1% last month, and there were big regional variations.
The survey also found that arrears had risen, with 9.7% of all rents unpaid.
Rents had now risen for 10 months in a row, LSL said. However, it said November's rise was mainly due to strong demand for rented property in London, where rents had increased by 1.8% last month.
Elsewhere they were now falling - down by 3.1% in eastern England and 2.4% in the East Midlands during November alone.
They also dropped by 1.9% in the south-east of England and by 0.6% in the north-west of England.
"With the limitations placed on the supply of rental property by the lack of mortgage finance, rents have continued to increase," said David Newnes of LSL.
"Nevertheless, rent increases have begun to slow in several regions, and we expect this trend to continue across the country in December and January.
"However, the UK's buy-to-let market still faces a shortage in the supply of rental properties and we don't anticipate that the slowdown in rent rises will last long into 2011," he added.
Related Internet Links
The BBC is not responsible for the content of external sites.