National Express says profits beating expectations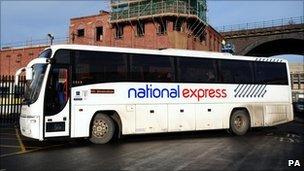 Coach and rail operator National Express has said it is returning to healthy profit margins sooner than management or the markets had expected.
The transport firm launched a business recovery plan in the summer as profit margins lagged competitors.
As a result, the company said profits would now beat market expectations.
It was helped by a return to modest revenue growth at its West Midlands bus business despite 4% lower mileage, thanks to a shake-up of its routes.
"The Board now expects normalised profit before tax for 2010 to be a little above current market expectations and markedly stronger than expected in January," the company said in its statement.
National Express' share price rose 2.8% at the open of trading on Friday, following the statement's release.
Revenues at its staple UK coach business - which is being reorganised - were up 3%, while those at its rail franchises - including Anglia and C2C - rose 7%.
Inter-city revenues at its Spanish coach business Alsa returned to growth for the first time since 2008.
Operating profit margins at its start-up North America business were up 50% compared with 2009.
Related Internet Links
The BBC is not responsible for the content of external sites.