Oracle profits from new software sales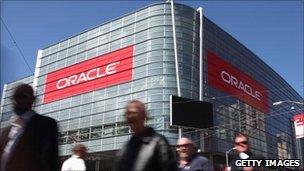 Strong software sales to new customers helped to boost US technology giant Oracle's profits in the three months to the end of November.
Net profit came in at $1.87bn (£1.2bn), a 28% rise on the $1.46bn it made in the same period a year earlier.
Revenue almost doubled to $8.58bn, with $2bn coming from new software licences.
Analysts said Oracle's purchase of Sun Microsystems at the beginning of the year had allowed it to grow sales by cross-selling hardware and software.
"I'm not convinced that this necessarily means the IT spending environment is robust, but it certainly suggests that Oracle's strategy is paying off," said Jeff Gaggin at Avian Securities.
Investors like to see strong software sales as they provide good profit margins.
Oracle agreed a $7.4bn deal for fellow computer firm Sun Microsystems in April 2009, but the takeover was only approved by competition authorities earlier this year.
Related Internet Links
The BBC is not responsible for the content of external sites.