German business confidence hits fresh high, Ifo says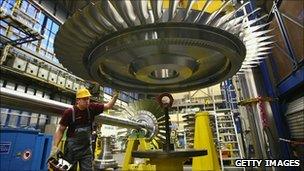 German business confidence has hit a fresh post-reunification high as strong exports continue to drive the country's strong economic recovery.
The closely-watched Ifo Business Climate Index climbed to 109.9 in December, up from 109.3 the previous month, itself a 20-year high.
"The outlook is now even good for consumption," Ifo said.
Despite concerns about high debt levels in the eurozone, the German economy is driving the region's economic recovery.
Even a small dip in the manufacturing index was brushed off by Ifo's president, Hans-Werner Sinn.
"This is solely the result of a slight worsening in the business expectations," he said.
"The business situation is just as good as in November. Stronger stimulus is expected from exports, and the firms are planning to hire additional staff."
He also highlighted the improvement in confidence among retailers and wholesalers.
Analysts were impressed by the Ifo figures.
"It's like a Christmas carol: The German economy is truly in top form," said Andreas Scheuerle at Dekabank.
"You can see that reflected with the further increase in the business conditions but also with the fact that expectations have risen again. The debt crisis and the end of stimulus measures don't seem to be affecting German companies at all."
The record business confidence figures point to strong growth for the economy as a whole, analysts say.
"At this level, the Ifo points to very strong annual GDP growth of around 6% - far better than the third quarter's 3.9%, implying that the recovery has further to run," said Ben May at Capital Economics.
This is stark contrast to many European economies that are stagnating or growing much more slowly.
Related Internet Links
The BBC is not responsible for the content of external sites.