AstraZeneca shares hit by US drug approval delay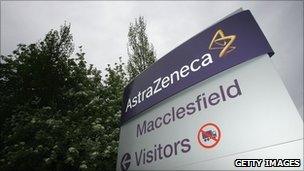 Shares in AstraZeneca dropped 5% in early London trading after US regulators further delayed approval of its heart drug Brilinta.
Markets had expected the UK drugmaker's blood thinner to get the go-ahead.
The US Food and Drug Administration (FDA) said it wanted further analysis of existing drugs studies, although no further studies are needed.
Brilinta, which is already approved in Europe, is expected to reach $2bn (£1.3bn) sales in the US once approved.
The FDA had already postponed its review of the heart drug since September after patients in a North American trial of the drug failed to show significant benefits.
AstraZeneca is hoping Brilinta will challenge Plavix produced by rivals Bristol-Myers Squibb and Sanofi-Aventis, which is the second best-selling drug in the world with over $9.5bn sales last year.
The UK company is about to see patents on some of its other major brands expire, including schizophrenia drug Seroquel and heartburn relief Nexium.
Related Internet Links
The BBC is not responsible for the content of external sites.