UBS dress code scrutinises staff underwear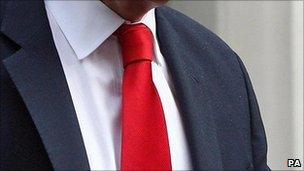 Swiss banking giant UBS has issued its staff with a 44-page dress code, covering everything from the colour and size of suits to dietary tips and the length of toenails.
Staff are also advised on appropriate underwear and hair dyes.
The code only applies to client-facing staff, and UBS said it had been "misunderstood".
Reportedly the brainchild of top executives, the code is part of UBS's attempts to improve its image.
The bank was hit hard during the financial crisis, and was bailed out to the tune of 6bn Swiss francs ($6.2bn; £4.1bn; 4.9bn euros) in 2008 after losing about 21bn francs, more than any other Swiss bank.
It has also been embroiled in a long-running dispute with US tax authorities over secret bank accounts for US citizens.
Little, however, will have prepared staff for the level of scrutiny their attire will soon attract.
The dress code advises that "women should not wear shoes that are too tight-fitting as there is nothing worse than a strained smile".
Shirts must not be "too tight", while underwear "must not be visible against clothing or spill out of clothing".
The code also advises against eating garlic and onions.
Related Internet Links
The BBC is not responsible for the content of external sites.