Tommaso Padoa-Schioppa, economist and politician, dies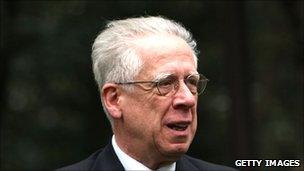 Tommaso Padoa-Schioppa, one of the intellectual architects of the single European currency, has died aged 70.
The Italian economist and politician is thought to have suffered a heart attack on Saturday while dining with friends.
Mr Padoa-Schioppa, economy minister in Romano Prodi's 2006-2008 government, was a member of the European Central Bank's first executive board.
His job was to help steer the euro through its difficult early years after being introduced in January 1999.
Mr Padoa-Schioppa, recently appointed to the board at carmaker Fiat, was an adviser to Greece on how to deal with the country's debt mountain.
Born in the northeastern town of Belluno, he studied for a doctorate in economy at Milan's Bocconi University before joining the Bank of Italy in 1968.
After being a director of the ECB from 1998 to 2005, he became Italy's minister of economy from 2006 to 2008, and also chairman of the Basel Committee on Bank Supervision.
Mr Padoa-Schioppa's friend Eugene A. Ludwig, chairman of the global consulting firm Promontory Financial Group, said: "His accomplishments were immense.
"His recent work as an unpaid adviser to the government of Greece is a splendid example of how completely committed he was to sharing his exceptional gifts in finance and economics for the betterment of society."