CBI cuts UK first quarter economic growth forecast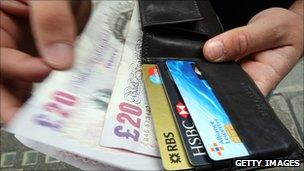 The CBI has downgraded its forecast for UK economic growth in the first quarter of 2011.
The employers group expects growth of 0.2%, down from 0.3%, as public sector job losses and higher-than-expected inflation slow the economic recovery.
The CBI also expects the Bank of England to start raising interest rates from the spring of next year.
However, it does not see the UK falling back into recession, and predicts second quarter 2011 growth of 0.4%.
However, the CBI warned that the VAT rise from 4 January and higher energy bills would hit consumer spending.
It said consumers also remained cautious because of fears over unemployment.
CBI chief economic adviser Ian McCafferty said: "Quarterly growth at the start of 2011 is likely to be very sluggish, although we do expect the recovery itself to stay on track.
"What is striking is how little we see growth accelerating in 2012. Typically, by the third year of a recovery, growth would be more robust than we expect for either 2011 or 2012."
The business organisation predicts that after 0.4% growth in the second quarter it expects 0.5% for each of the third and fourth quarters, giving a 2% annual growth rate for the year.
The CBI also made its first estimate for gross domestic product growth in 2012, which it expects to be 2.4%. This is slower than usual for the third year of a recovery from recession, the body said.
Regarding interest rates, the CBI expects that starting from the spring, they will rise "gently" from the current record low of 0.5%, increasing until mid-2012.
It says that the Bank of England will need to increase rates to tackle inflation, which it says will remain high due to both higher energy bills and the VAT rise from 17.5% to 20%.
The CBI says CPI (consumer prices index) inflation will "significantly exceed" the Bank's 2% target for a second year in 2011, before returning to about 2% in 2012.
The most recent official figures showed that CPI inflation rose to 3.3% in November, a six-month high.
The UK economy grew 0.8% between July and September, according to the most recent official figures.
This was a slowdown from the 1.2% expansion recorded from April to June.
Related Internet Links
The BBC is not responsible for the content of external sites.