Sasol agrees $1bn Talisman Energy gas field deal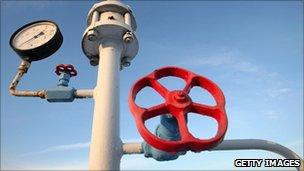 South African energy and mining giant Sasol has agreed a deal to buy a 50% stake in a gas field owned by Canadian energy group Talisman for $1bn (£643m).
Under the terms of the deal, Talisman will continue to operate the Farrell Creek shale gas field in British Colombia.
The 51,000 acre field holds an estimated 9.6tn cubic feet of gas, Sasol said.
The two companies also agreed to collaborate on other projects.
These include a study into the viability of a gas-to-liquid facility in western Canada.
"The quality, notably the thickness and richness of the shale, and size of the Farrell Creek resource base, as well as its expected production profile, makes this a highly attractive asset for Sasol," the South African company said.
The deal is subject to regulatory approval.
Related Internet Links
The BBC is not responsible for the content of external sites.