Snow travel chaos: Your rights to refunds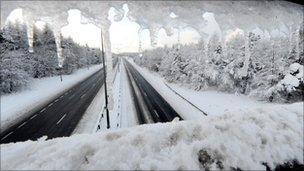 The wintry weather has caused chaos for many thousands of travellers trying to get to their destination of choice for Christmas.
Driving conditions have been hazardous with freezing temperatures causing problems for motorists, trains have been cancelled, and thousands of passengers have slept in terminal buildings with planes grounded.
Many travellers are now fearing they could be stuck over Christmas.
So, if your travel plans have been disrupted what rights do you have to alternative travel, compensation or refunds?
Flights have been disrupted by the weather at a number of UK airports causing frustration for many air passengers. Many have been told to stay away from airports until their flight is confirmed.
Passengers with a ticket have a contract with the airline to get them from A to B. So that means the airline must try to re-route the journey - even if that means a bus or taxi transfer to another airport for a flight with a different operator.
Alternatively, passengers can choose to have a refund. The Air Transport Users Council says that airlines are usually quite swift to give refunds.
If a flight is delayed, there are strict European rules in place, which mean that the airline is obliged to supply meals and refreshments, along with accommodation if an overnight stay is required.
Whether passengers qualify will depend on the length of the flight and the delay.
For example, for flights of 1,500km or less where there is a delay of more than two hours, a passenger should be given meals and refreshments, along with two free telephone calls, e-mails, telexes or faxes.
If the delay is for five hours or more, passengers are also entitled to a refund of their ticket with a free flight back to their initial point of departure if this is relevant.
People flying into the European Union from overseas are also covered by the rules, as long as they are travelling on a European airline. So are those on a non-EU carrier leaving from an EU airport. They also apply to passengers who have two single tickets.
Passengers making their own way home, if stranded overseas, can claim "reasonable" expenses when they return. However, if their original flight operates as planned they may not be able to get their money back.
However, owing to the fact that cancellations are beyond airlines' control, there is no automatic right to any extra compensation.
Package deals guarantee a trip back from destinations or a holiday refund and this cover comes into force when bad weather forces a cancellation.
Operators must refund customers for the whole holiday if trips are cancelled, meaning they could not get to their destination.
In reality, operators tend to give three options to people on package deals. They are: deferring the leaving date of the holiday, transferring to another holiday of the same or similar value, or a refund of the amount paid for the whole holiday.
Independent travellers can also have a look at their travel insurance policy which might cover the cancellation of a trip owing to bad weather. This may or may not cover the cost of, for example, accommodation booked separately.
Those who spent more than £100 on each individual ticket using a credit card might be able to claim from their card provider.
The snow has frozen on the roads causing dangerous icy conditions.
During the coldest snaps, motorists have been warned only to drive if their journey is necessary.
Breakdown organisations, such as the RAC, say that they are expecting batteries and non-starts to be the biggest cause of mechanical problems.
The organisation also points out their cover is for breakdown, not to drag vehicles out of the snow outside owners' homes.
"We will do what we can to help people but our priority is to help those broken down in a dangerous position," says spokeswoman Vicki Burn.
Those travelling in wintry weather over the next few days should ensure they take extra clothes and blankets for the journey, and those on medication should check they have enough with them.
Drivers should allow extra time, pack a scraper and de-icer, and clear lights as well as windscreens. A charged-up mobile phone, torch and potentially a shovel should also be put in the car.
The Association of Train Operating Companies (Atoc) expects a busy festive period, with many rail travellers having booked advance tickets on specific services.
That means some people's travel plans are set in stone, so they could face difficulties if specific trains are cancelled.
However, with most train companies, these tickets should be valid on other services - even those run by other operators - although the seat reservation would clearly not be secured.
But you should check with your train operator and talk to train staff before getting on an alternative service.
"People will be compensated for train cancellations and delays caused by the weather, but different train companies have different guidelines so it is important for passengers to contact their operator," says an Atoc spokeswoman.
"As a minimum if your service is delayed by an hour of more, you should be entitled to some level of compensation, but some train companies will consider delays of less than an hour, so it is important to check."
Compensation forms are usually available at stations or on the operator's website.
Speed limits have been in place on the high-speed service to Europe adding two hours to journey times at times.
Any travellers who do not need to travel before Christmas are being asked to postpone or cancel their journey.
They will be eligible for a refund or an exchange for a ticket after Christmas, in the next 90 days.
Passengers willing to do so should contact the agent who sold them the ticket within 60 days for a refund of unused tickets, or for a free exchange, subject to availability, onto a train on another date after Christmas.
Related Internet Links
The BBC is not responsible for the content of external sites.