JP Morgan to move into Lehman London headquarters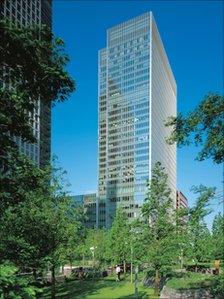 US banking giant JP Morgan has said it will acquire the old Canary Wharf headquarters of failed rival Lehman Brothers as its new Europe head office.
It ends fears the US bank might relocate outside the UK to avoid rising taxes and tighter regulation.
The bank will also buy out a building in the City that it has leased and occupied since 1991.
And the US bank will restart work on a massive Docklands skyscraper that is its planned long-term future home.
The 1.1m square feet tower at 25 Bank Street was originally purpose-built in 2003 for the now-defunct Lehman Brothers.
From 2012, it will house JP Morgan's European investment banking unit, which is currently split across four separate London locations, mainly in the City.
The Manhattan-based firm will also acquire the 60 Victoria Embankment building in the square mile, which is home to its treasury and security services business lines.
"In symbolic terms, given that all the talk recently has been of bankers flocking to Switzerland or Singapore - to escape the UK's 50p income tax rate and constant sniping from politicians and media about bonuses - this is quite a big deal," says BBC business editor Robert Peston.
London's mayor, Boris Johnson, said the decision would "help ensure the capital retains its position as a banking powerhouse, which drives the UK economy and attracts the brightest and best stars from the financial world".
Meanwhile, CWG said that work would recommence at another site on its estate - Riverside South.
JP Morgan bought a 999-year lease on that site in November 2008, just after Lehman Brothers' collapse, with the intention of constructing a massive building that would bring its entire 11,000 London workforce together in one location.
Foundations for the 1.9m square feet twin towers - designed by Richard Rogers and planned to be the tallest structure in Canary Wharf - are already complete.
But work on the building site has remained dormant for months while JP Morgan pondered where to relocate.
According to CWG, the US firm has now committed to build the tower, but only from basement levels up to the ground floor, and has pushed its agreement to develop the site back to 2016.
Work - including on the design as well as the construction of the building - will recommence immediately, according to the UK property group.
The final shape of the building may depend on whether JP Morgan eventually decides to move in, or instead to sub-let it to other tenants or sell its lease.
"Flexibility was built into the site from the very onset," said a spokesman for CWG.
Related Internet Links
The BBC is not responsible for the content of external sites.