Hard work for little reward backs China's economic growth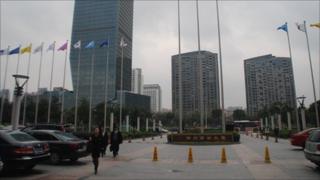 In the eastern Chinese port of Ningbo, at the main railway station ranks of young recruits in army fatigues are lined up ready to board the train.
They are playing patriotic music over the tannoy.
It could be a scene from 30 years ago, before China began to transform its economy, except that the other passengers are a lot better dressed than their parents probably would have been.
This is now one of the richer parts of the country, and hard work has meant many people here have more money to spend.
China's economic transformation over the last three decades has been unparalleled anywhere in the world.
Its huge supply of cheap workers has helped it become the world's second largest economy.
In a globalised world, these are the workers employees are competing with more closely than ever, no longer just in manufacturing, but in the service industries too
A better life
The young men joining the army are those who have probably not done well enough at school to stand a chance of joining what is an increasingly competitive job market.
In modern China, many feel the gap between "winners" and "losers" is widening.
Working at his stall in the local market is Li Ming, a butcher who will soon turn 40.
"My work is very hard," he complains.
"I get up at three in the morning, and finish at six in the evening. I never have a day off, except during the Spring Festival Holiday. I won't be able to keep working like this for much longer."
Li Ming says he earns about 100 yuan ($15; £10) a day doing what he calls his "punishing" job.
He wants his teenage daughter to get an office job when she finishes school because he thinks that will be easier than the life he has.
Weak health
Xiao Huang, a salesman nearby, is not so sure.
He is 30 and he is not happy with his job either.
"I work long hours," he says.
"There's no compensation for extra work. I think I should get paid for it."
He earns between 600 and 700 yuan a month.
"My work is very stressful," he complains.
"The more I work the more I feel my health is getting worse."
'Mortgage slaves'
Lin Jie, a 25-year-old graduate who started his own firm helping students here complete applications for foreign universities, has more control over his hours because he is his own boss.
He says he works 12 hours a day, seven days a week at the moment trying to get the business onto a firm footing.
What drives him is the desire to succeed, but he also complains of pressures many people in the West would recognise.
"It's quite expensive in China to buy an apartment," he says.
"Normally it will cost a whole family's savings to pay the down payment and then they have to work 20 or 30 years."
He says that makes Chinese workers "mortgage slaves", working to pay off their mortgage until they are in their forties or fifties, but then having to worry about their children's housing problems.
"It's like an endless circle," he says.
"The only way you can try to get ahead is to do as much overtime as they'll pay you for."
Flat pay
Lin Jie is a graduate from the University of Nottingham, which has a campus here in Ningbo.
Life for students is hard at the moment.
There are just too many of them and it is hard to get a job after graduation.
In the six years to 2009, the average salary for a migrant labourer grew by almost 80%.
Over the same period, graduate salaries did not rise at all. In fact, they fell if you take inflation into account.
Getting an edge
Sun Ying Jie, a student in his final year at the university, says that if he is lucky enough to get the job he wants, he will not have any choice but to work as hard as he can.
"If there is one thing that mostly makes the people work hard here, it's the feeling of uncertainty about their life in the present or in the future," he says.
"It is different from the UK and the United States. China's social security system is not as good as the Western ones so the people have to earn their living. They have to prepare for their life after their retirement and their pensions are not that promising."
In the university's chemical engineering laboratory, they study in English.
They hope the language proficiency will give them an edge over graduates from Chinese universities.
Tough competition
The pressure people feel under here is a theme Ningbo workers return to again and again.
Dr Zhang Shi Xin, who teaches contemporary Chinese studies at the university, says this generation has it tough.
"Compared to the last generation, my impression is that this generation is under more pressure," she says.
"The current generation has to worry about so many things.
"In the workplace, if you don't work hard enough, somebody else may replace you and you may lose everything."
Insecurity
Modern China is a formidable economic power that can feel threatening to its overseas competitors.
Inside the country, though, the motivation for many employees to work so hard still seems to be the huge amounts of insecurity and the enormous amounts of pressure they feel.
The government here says it is trying to address these concerns about welfare provision, education, the cost of housing and care.
But there is still a lot of work to be done.