Russian potash firms Uralkali and Silvinit set to merge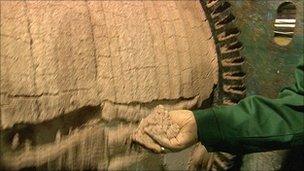 Russia's potash producer Uralkali has offered to buy rival Silvinit for cash and shares in a deal that will create a company worth $24bn (£15bn).
Uralkali offered to acquire 20% of Silvinit for $1.4bn and complete the tie-up through a share swap.
The move would create the world's second-largest potash producer by volume, behind Canada's PotashCorp.
Silvinit's board has recommended that the company's shareholders approve the deal when they meet on 4 February.
Shares in Silvinit fell more than 9% in Moscow, while Uralkali saw its stock gain 1% on the news.
"They [the terms of the deal] don't look very good for Silvinit, it values the business at about 40% discount to Uralkali," said Deutsche Bank analyst Bob Kommers.
"That's in the interest of Uralkali shareholders."
A spokesman for Russian Prime Minister Vladimir Putin said last week that Mr Putin had been informed "about the ongoing merger" between Uralkali and Silvinit.
Both Uralkali and Silvinit are effectively controlled by Russian billionaire Suleiman Kerimov and his partners, reports say.
Last month, mining giant BHP Billiton dropped its $40bn takeover bid for Canada's PotashCorp after it was blocked by the Canadian government.
Commenting on the news of a possible merger between the Russian companies, PotashCorp head Bill Doyle said last week that "any consolidation in our industry would be a good thing".
"They [Silvinit and Uralkali] have been in a bit of a battle for the last 15 years or so, so if they were to become one company and sell through one channel, that would have certainly a positive effect on the market," said Mr Doyle.
Related Internet Links
The BBC is not responsible for the content of external sites.