Clothing markets continue to lure Russians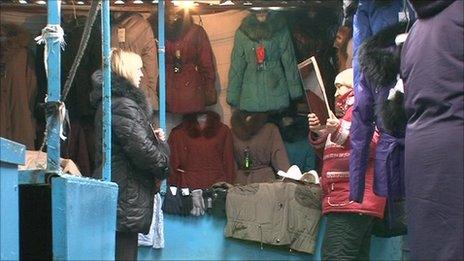 Russians, not unlike people in many other countries, are busy doing Christmas and New Year's Eve shopping now, but many of them are not heading to High Street or online shops to buy clothes.
About half of all clothes and shoes bought in Russia are bought at outdoor and indoor markets, according to Russia's statistical agency, Rosstat.
As of 1 October, there were almost 3,500 retail markets in Russia, of which 73% were selling virtually anything that money can buy, whilst about 10% were specialising in selling clothes and other merchandise.
Unsurprisingly, the main reason why many Russian buy clothes at markets, rather than in shops, is the question of price.
A pensioner visiting a market in the Russian city of Volgograd told the BBC's Russia Business Report that market prices were lower in general, plus you could always try to knock them down even further.
A young woman said that usually the market got new stock coming in more often than most shops, while the quality of clothes was "almost the same".
For one middle-aged lady it was not about the price. She said she came to the market often to find clothes for her child, which she could not find in shops.
"You could find some quality stuff here as well," she said.
'Critical mass of factors'
Vladimir Kuznetsov, an equity analyst at Unicredit Securities in Moscow, says there are virtually no low-cost clothing shops in Russia.
He believes, however, that the situation will change in the coming years, just as happened several years ago in the food retail sector.
Indeed, in the 1990s most people were buying food at markets. Since then, more and more supermarket chains have started appearing and expanding across the country, while many indoor markets have been turned into well-organised and controlled marketplaces.
Now only about 11% of all food is being sold at markets in Russia, according to Rosstat.
Mr Kuznetsov says that some "critical mass of factors" is needed for similar changes to happen in the merchandise sector.
"In fact, who heard of [now huge Russian food retailer] Magnit about five years ago, for example?" he asks.
"But now it is among the top 30 Russian companies by capitalisation."
The Russian economy would definitely benefit from Russians switching their preferences from markets to shops in terms of buying clothes and shoes.
A lot of goods sold at these markets are counterfeited, which, in part, is the reason why they are cheaper than the official goods sold in most shops.
As a result, the economy is losing a lot in taxation, according to Victor Khristenko, minister of industry and trade.
Russia's light industry also suffers, because many goods sold at markets are smuggled from abroad, he said last year.
Following Mr Khristenko's report, Russian police ordered Cherkizovsky market in Moscow, the largest in Eastern Europe, to close, citing storage and hygiene violations.
And while some critics believed that a business dispute was one of the main reasons behind the closure, officials said that they had seized $2bn (£1.3bn) worth of allegedly smuggled goods there.
Several surveys conducted at the time suggested that most Muscovites were in favour of the closure of Cherkizovsky market.
But the results could have been different had it happened outside Moscow, where people usually have less money to spend and the choice of shops is limited.
So, while things could change in future, for now most Russian markets see strong demand for the clothes and shoes they sell, making the markets a cash cow for many sellers.