Doorstep lenders told to improve by OFT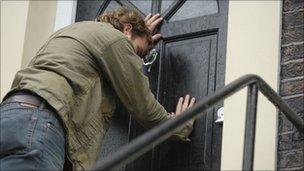 About 100 licence applications from potential doorstep lenders have been refused in the last 18 months by the regulator.
Now the Office of Fair Trading (OFT) has written to 50 lenders telling them to improve their standards.
There is concern that families will be caught-out by high cost credit in the run-up to Christmas.
Some agents have turned up on the doorstep without permission and have misled potential clients, the OFT said.
This included not explaining consumers' rights to cancel.
Protecting the vulnerable
There are more than 28,000 agents for lending firms working in the UK and managing annual borrowing of more than £3bn.
Annual interest rates on loans can reach up to 1,500%, although in many cases the debt is designed to be paid back over a few weeks.
The OFT's director of consumer credit, Ray Watson, said he wanted to "protect vulnerable consumers".
Over the past 18 months, the OFT has refused 100 applications for licences to provide what it calls "home collected credit", more than half of all the applications submitted.
The total included applications for licence renewals from existing providers.
Now the regulator is sending out 50 warning letters to licence holders giving them three months to provide paperwork which shows that they are complying with the Consumer Credit Act.
Last month, the OFT took action against a Belfast-based lender, forcing it to provide statements to customers showing how much they had borrowed and how much they still owed.
Officials believe the home credit industry is growing as a result of the credit crunch, as it is hard for families to find other sources of cash.
"Over the festive period, people are looking to borrow extra money to cover their additional costs," said Mr Watson.
"We strongly advise borrowers to shop around for the cheapest and most suitable credit."
The OFT regulates a website that borrowers can visit to compare the cost of credit from doorstep lenders.
Related Internet Links
The BBC is not responsible for the content of external sites.