Flopping flotations: How can small investors pick well?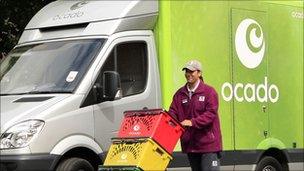 It seems to have been an unexpectedly great year for UK share buyers.
As the year began, the New Year nerves over the economy's direction were pulsating more than usual.
The credit crisis - supposedly slipping into the past - never convincingly disappeared, despite quantitative easing and a year-long interest rate low of 0.5%.
Companies, we were told, were suffering. But the companies listed on the stock market did not seem to be tuned into the same message.
Investors thought these were worthwhile - and their faith in these companies' strengths means the FTSE 100 index is ending the year 8% above where it started, at about 6,000 points.
Companies themselves, outside the market, were keen to join the party, with five times the number joining the stock market this year as in 2009.
According to London Stock Exchange figures, by the end of November, 75 companies made initial public offerings (IPOs).
This is the procedure by which a company goes from being privately-owned to stock market listed, with the proceeds from new share buyers going to the company.
These 75 raised a total of £9.2bn. By way of comparison, during the same period last year, there were 15 IPOs on its markets, raising just over a tenth of that amount - £943m.
Should, then, more savers have put their money into the stock market?
One observer, Darius McDermott, managing director of the fund management specialists Chelsea Financial Services Ltd has no doubts.
"Inflation and low interest rates mean you'll get a negative return on cash every time at the moment," he says. "If I had £1 today, I would put my £1 into equities every time."
But, as ever, it depends where you put that £1.
Despite this rising market, many of the IPOs have proved to be monumental flops.
One of the best examples is Betfair, the exchange betting company, offered at 1,300p. They initially did well but are now about 26% below that.
Ocado, the online grocery delivery company, was spared the worst by lowering the price it hoped to get.
Initially it was asking for up to 275p for each share, but was forced to discount, until eventually the shares were sold at 180p.
Even that wasn't low enough. They lost 7% on their first day of trading and are still below issue price - 38% down on the 275p the company would have liked.
Sometimes these falls are down to a simple case of overpricing, says David Kuo from the independent private investor website Motley Fool.
He warns: "A company planning to raise money via the stock market will employ a team of advisers to make that company look as attractive as possible. You are dealing with a sales pitch at the very highest level."
Of course, the past year has also provided its share of successes.
David Kuo points to Jupiter, an investment company, and Supergroup, a sports fashion clothing chain whose brands include the small-but-growing Superdry label.
Investment specialist Jupiter Fund Management priced its shares at the low end of hopes at 165p and saw its shares rise 15%. They are now an impressive 86% above their June float price.
Supergroup did even better, issuing at 500p, jumping 8% on the first day, and trading now a staggering 153% above the issue price.
He explains their success by pointing out that Jupiter's business is the markets and if they do well, so will it. Supergroup, he says, is a simple case of underpricing.
Preparing a company for a stock market listing involves a host of professionals - lawyers, investment bankers, accountants and brokers - but is plainly not an exact science.
Some companies decided in 2010 to avoid the thorny process altogether and, having planned to float, pulled out.
Since April, 55 companies decided they would not list after all, including the clothing chain New Look, and the owners of Madame Tussauds and the London Eye, Merlin Entertainments.
How does a small investor decide whether to get involved?
Darius McDermott says this is not easy: "Even as someone close to the market, I would not feel qualified to assess whether a company was worth what the official IPO document says. I would go for specialist help."
David Kuo is even more blunt: "The simple answer is, 'You can't.' Investors are working with limited financial information and flotation documents are designed to put lipstick on a pig."
The standard recommendation is that even with specialist advice, you need to take a five-year view and have a high threshold towards risk.
Darius McDermott says it is possible to do well: "If you know the management of a smaller company, for example, you have personal knowledge and you can find some real gems."
But going by the performance of the crop of 2010 issues, you have been warned.
Related Internet Links
The BBC is not responsible for the content of external sites.