UK government support for banks 'did not lift lending'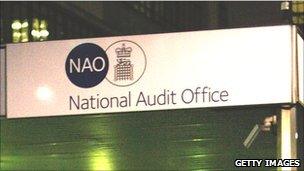 A government plan to protect assets of Royal Bank of Scotland and Lloyds had a beneficial impact on the markets, the National Audit Office says.
But the NAO said the Asset Protection Scheme (APS) did not fully succeed in its aim of boosting bank lending.
The APS was set up in 2009 to raise confidence in the system following the 2008 financial crisis.
It initially backed assets in RBS and Lloyds in return for an agreement on lending levels.
The NAO, the government's spending watchdog, said this was a partial success. The banks had met the mortgage targets but not the one for small business lending.
But it said there was a £30bn shortfall in the year to March by RBS and Lloyds in meeting the business lending target.
It also said that the government did not set fees for the APS high enough and that the Treasury, which was then run by the Labour government's chancellor, Alistair Darling, could have fixed a higher minimum charge for RBS to use it.
The report found the Treasury did not put enough analysis into the potential fees arranged for RBS to use the APS.
RBS faces a minimum charge of £2.5bn, the NAO believes this should be nearer to £4.4bn.
It added that Lloyds, which left the scheme in November 2009 after paying £2.5bn, could also have been charged up to £4.5bn.
The NAO's head, Amyas Morse, said: "The Asset Protection Scheme has helped the Treasury achieve its primary aim of maintaining financial stability and preventing the huge economic and social cost of the failure of a major UK bank. However, there has been only partial success in one of the Scheme's subsidiary goals, encouraging bank lending gin the UK."
The APS protects £282bn of RBS assets.
The government owns 83% of RBS, and 41% of Lloyds.
In a separate report, released last week, the NAO said that the Treasury would probably still be paying for its help to the banks for "years to come".
It also said that the Treasury continued to sit on a paper loss on its shareholdings in RBS and Lloyds of £12.5bn as of 1 December.
Related Internet Links
The BBC is not responsible for the content of external sites.