MPs panel warns government to 'rethink youth job fund'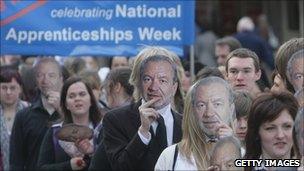 A committee of MPs has warned the government that ending the Future Jobs Fund early risks leaving youths in long-term unemployment.
The Work and Pensions Committee made 23 recommendations to the government after studying its plan to end the scheme one year early.
The £1bn fund will close in March, with the replacement Work Programme not due in place until June.
The committee said proper transitional arrangements should be arranged.
The Future Jobs Fund was created by the previous Labour Government in response to rising youth unemployment at the time of the credit crisis.
It was used to fund temporary employment for 18-24 year old who had been out of work for more than six months.
MPs also called for more money to fund apprenticeships.
The Committee's chairman, Anne Begg said: "Young people, especially those who may be lacking skills, experience and confidence, need appropriate and sometimes intensive support to find work, otherwise they risk falling into long-term unemployment.
"Providing this support is even more important during these difficult economic times."
A Department for Work and Pensions spokesman said there would be transitional support available.
"Unemployed young people will get high-quality support through the Work Programme which will be available nationwide by next summer.
"We are also working with providers to extend referrals to existing provision to ensure that customers referred to these programmes in March will be supported until the summer, when the Work Programme will be rolled out."
The latest figures on unemployment in the UK show it increased by 35,000 in the three months to October to 2.5m, according to the Office for National Statistics.
Related Internet Links
The BBC is not responsible for the content of external sites.