Japan keeps interest rates at close to zero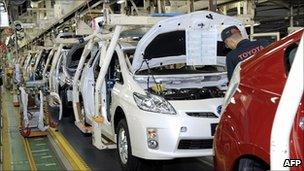 Japan has kept its key interest rate at between zero and 0.1% as policymakers continue to try to bolster the country's fragile economic recovery.
The central bank warned that the recovery "seems to be pausing".
Japan has been suffering from a strong yen, weak exports and almost two years of falling prices.
Last month, the government passed a $61bn (£39bn) stimulus package, the latest in a series of measures designed to boost the economy by creating jobs.
The Bank of Japan also said it would consider taking further steps to aid the recovery.
In October, the bank announced a 5tn yen ($60bn; £40bn) asset purchase scheme designed to boost demand in the economy.
Announcing the latest rate decision, the bank said that while the economy was showing signs of "moderate recovery", it would "continue to carefully examine the outlook for economic activity and prices, and take policy action in an appropriate manner".
The bank also warned that business sentiment and private consumption for some goods had weakened, while manufacturing production had declined.
Japanese shares closed sharply higher after the bank's announcement, but this was largely due to other factors.
Improved sentiment from the easing of tensions in the Korean peninsula was exaggerated by thin trading volumes.
Positive comments by the Chinese Vice Premier Wang Qishan supporting the European Union and International Monetary Fund for their efforts to address the eurozone debt crisis also helped to push Asian markets higher.
Mr Wang said China and Europe should "have confidence and enhance co-operation to work together for robust, sustainable and balanced growth".
Japan's main Nikkei index closed up 154 points, or 1.5%, at 10,371. Hong Kong's Hang Seng index gained 1.4%, while China's Shanghai Composite climbed 1.7%.
Japan's economy expanded at an annual pace of 4.5% between July and September, but many economists attribute this relatively strong growth to one-off factors
Most expect growth to be weaker in the final three months of the year.
One reason is weakened exports, which have taken a double hit from weakening demand overseas and a stronger yen, which makes exports more expensive.
Japan has also suffered 20 straight months of falling prices - known as deflation - which stifles economic growth by undermining consumer demand.
Related Internet Links
The BBC is not responsible for the content of external sites.